Facebook makes it really easy to retarget potential customers who have visited your checkout page but decided not to purchase. By using the power of Facebook and retargeting adverts, you can attempt to recover those potentially lost sales and convert more people into paying customers.
You could even use the method described below to set up different types of audiences for adverts targeting different sets of people.
Ads for users who visit your sales page but don't click through to the checkout
Ads for users who visited your checkout page but didn't buy
To get started you'll need to set up your Facebook pixel on your funnel. You can see our helpdesk article here on how to do this.
Once that's set up, you'll need to go to your Facebook Ads Manager and from the top-left menu select the Audiences option.
You're going to want to create a custom audience.

The type of audience you're going to want to create is Website traffic.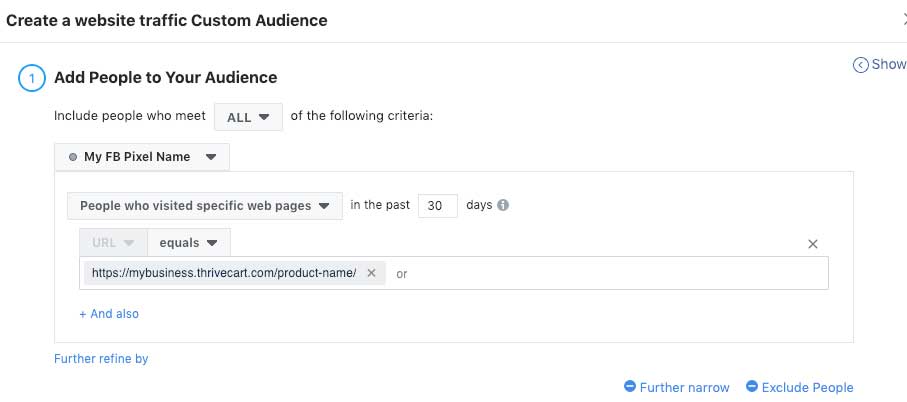 This is where we'll configure our settings, and we've included an example above which will create an audience of visitors to your checkout in the last 30-days who did not purchase.
First, you want to make sure you've set the audience to include people who meet ALL the criteria in your settings.
Then you want to select from the dropdown people who have visited a specific web page. You can then set how long you want to track this audience for (and market to).
You'll want to enter the URL to your checkout page and make sure the URL setting is set to Equals.
Next, you'll want to create a second rule that excludes people who visited your success page. To start this, click the text option at the bottom right that says Exclude People.

Like above, you're going to want to choose the option for people who have visited a specific web page and enter a time period.
But what's different is in the next step we want to make sure the URL option is set to Contains
Then you're going to want to enter your checkout URL again, but this time with /confirm/ at the end.
Every customer has their own unique success page, so you cannot enter a direct URL for a success page. However, all success pages for your product do start with the same URL which is why the option for 'contains' works.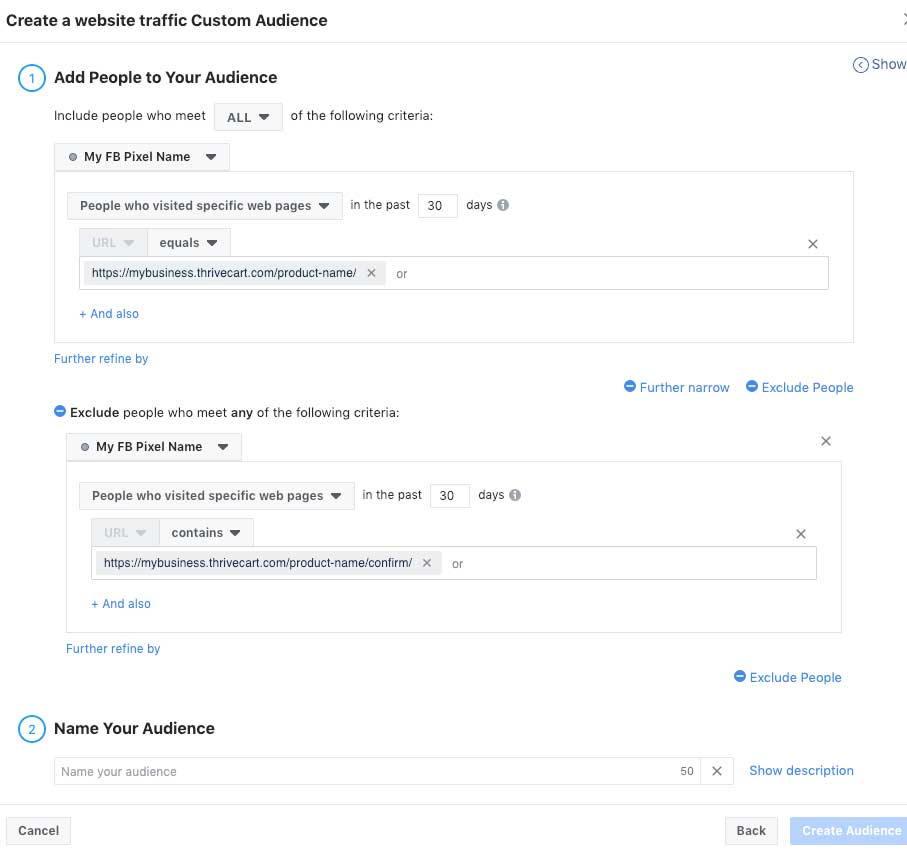 Finally, you can give your Audience a name and description and then save it.

Now, when creating your Facebook adverts you can specifically target this audience with your retargeting ads to try and convert them into customers.
Note that this article is an advisory only on creating an audience. If you're looking for more support around Facebook and Facebook ads, we recommend consulting a specialist.