A great form of scarcity marketing is having a quantity limit letting your customers know that there is only a certain amount of copies left to be bought.
With ThriveCart you'll be pleased to know you can easily add a quantity limit to your checkout pages that automatically reduces as copies of your product are purchased.
ThriveCart supports both:
Individual pricing options limits
Overall product quantity limits
Combination of both
To set up your quantity limit you need to head to the Product > Pricing tab in your product settings.
If you have a single pricing option
When editing/creating a payment option you can select from the quantity drop down, the ability to Limit to…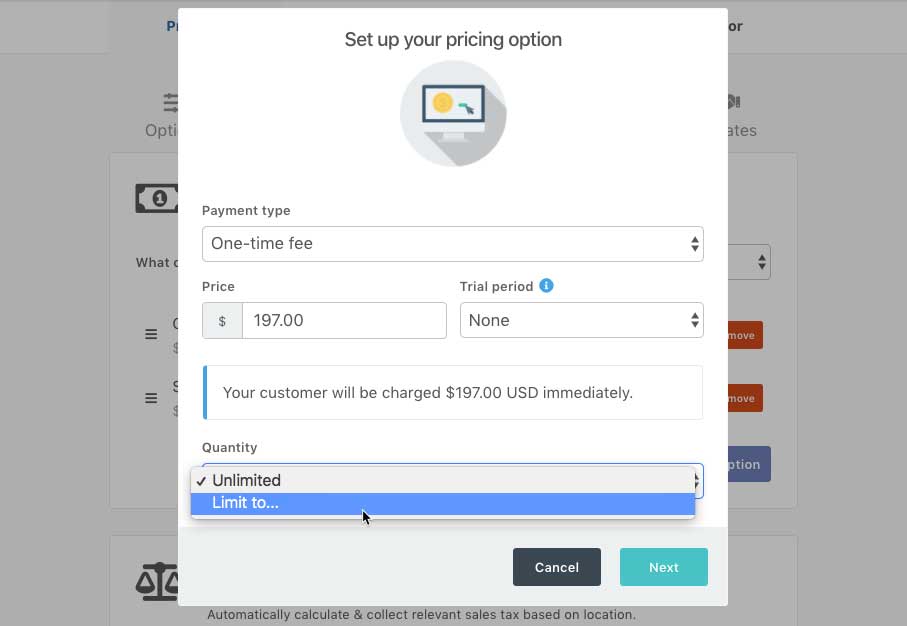 On the first window, will be an option to set a quantity limit. By default, this is set to unlimited, but you can set it to limit to and then enter a number.

After clicking Next and saving your payment option, you'll see a couple of new options; a quick set quantity button that lets you quickly and easily edit the quantity settings for that payment option and then a Set out-of-stock options button which is where you can set up the actions for when the product is out of stock.

Clicking the button Set out-of-stock options, you will be presented with a modal window where you can choose the desired action when all copies are sold. If you have multiple payment options on your checkout; when a specific payment option reaches 0 it will be disabled, these actions will only occur when all payment options on the checkout reach 0.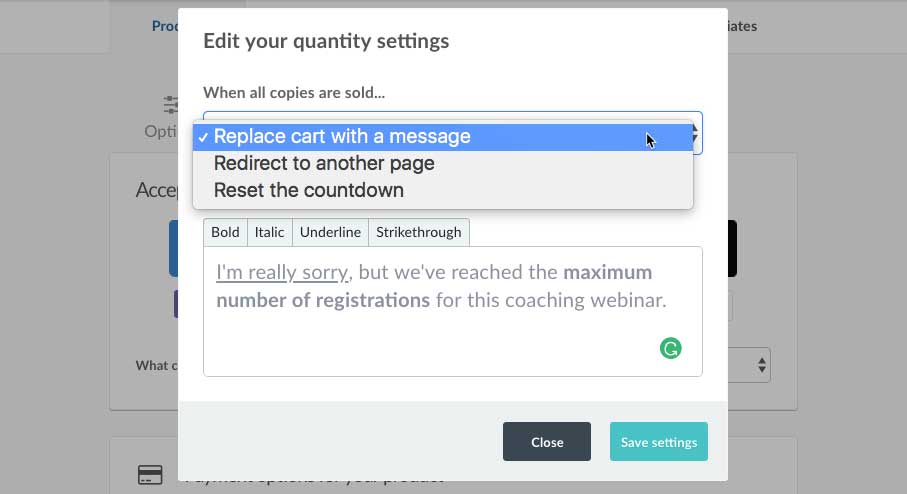 Replace cart with a message allows you to replace the cart with a message written in the box. This is helpful if you just want a quick message to be displayed to the prospect without needing to create a web page for them.
Redirect to another page allows you to set a custom URL to redirect the prospects to when the quantity hits zero. This is great if you maybe have a follow-up page on your website you wish to direct them to. Another great use for this would be if you only had X copies at a specific price point. You could automatically redirect users to a higher-priced copy of your product once all the lower-priced copies were sold.
Reset the countdown will make sure your evergreen promotions continue to run but still retain that sense of urgency the scarcity brings. Once the countdown reaches zero it will simply reset to the original limit, automatically.
If you have multiple product/pricing options
When you have multiple pricing options on your checkout page, you can set individual pricing limits as discussed above, but you can also set a product global quantity.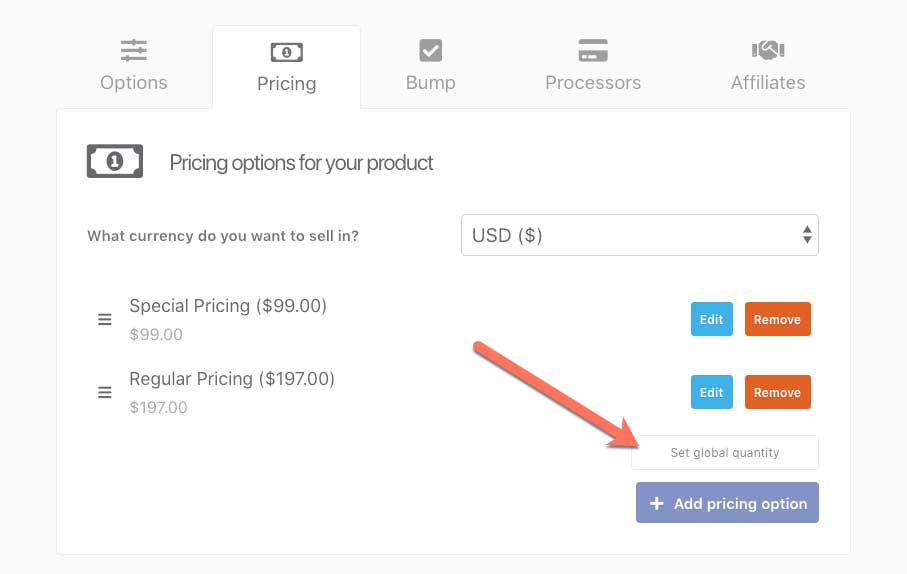 This option allows you to limit the total quantity of sales for the product.

An example of this use would be where you're wanting to sell tickets or access to an event and want to put a cap on the total number of tickets sold, but offer your customers the option of a one-time payment or a payment plan.
With ThriveCart you have the power to limit to set quantity limits as you need for your products and their pricing options.
The great thing about the quantity limit feature is that you can genuinely limit the number of copies sold. So if you're selling something with limited spaces or you only have so many products to sell you don't need to worry about manually disabling the cart – it's all automatic.
If you have any questions or need any help with this feature, please contact the friendly support team directly.