The Customer Hub is a specifically designed area to help
Reduce your refunds from customer frustration or confusion
Reduce your support/helpdesk demand by letting customers help themselves
Reduce failed charges and increase profits by letting customers easily update their info
It is an area where your customers can review all their purchases, see their invoices, review current, completed, and cancelled subscriptions. They can even review their personal/billing information and update them. They also have additional functionality such as cancelling their own subscriptions (should you allow this option).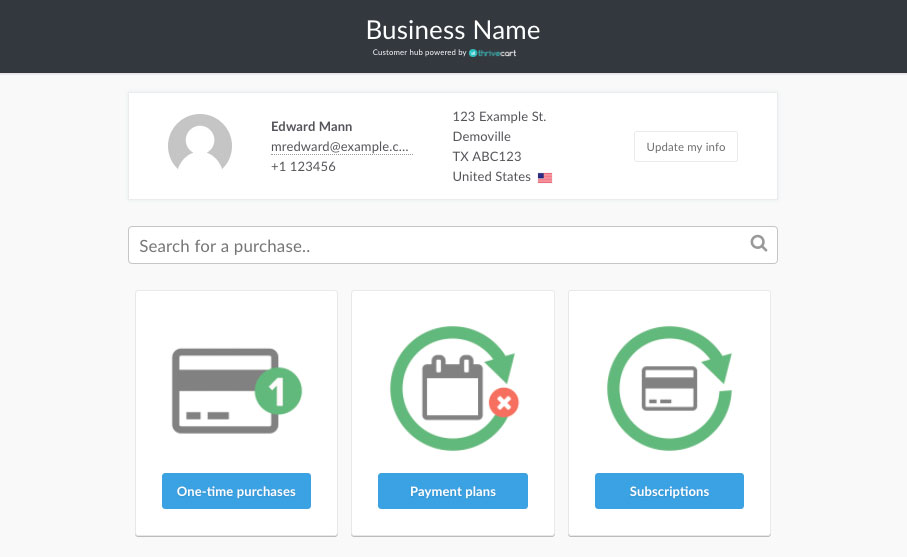 This area is easy for your customers to access via a link that's included in every receipt that's sent via the ThriveCart system when they buy your products or sign up for your plans. (You can also send them the link or include it on your website).
It is secure but also does not require that your customers remember yet another username and password, which again avoids needless support queries from customers to you and means they will never have a problem updating their information!
This area gives your customers the ability to easily…
View/print/download invoices for all of their past purchases in one place.
Update their personal info (Address/email etc.)
Update their billing info, either overall, or for specific active subscriptions, trials or split pay plans.
Allows them to see easily, what subscriptions, one time products, trials, split pays etc that they have purchased from you (the vendor) and which ones are active, cancelled, completed etc.
Gives them quick access to your support details to reduce issues for your company with customers who need help.
Let's them cancel trials or subscriptions directly from within this area. (If you grant the ability for your customers to do that, otherwise it directs them to your support details automatically so you can try and retain them as a customer – this is what we recommend doing in most cases).
Let's you add your own company logo to this area and a custom message for your customers.
Is easily accessible via a link which asks them to enter the email they used to purchase, and then emails them a URL which they can use to access their area. (Deliberately designed this way to avoid forgotten username/password issues that you would have had to deal with).
The area can also be accessed from a link in all of the receipts/invoices that are automatically sent out via ThriveCart to your customers, so they always know, with one click, how to access all of the above.
You can access the settings for this area from within your ThriveCart dashboard under Settings > Account-wide settings > Customer hub

If you have any other questions about this area and you cannot find the answer in our other Customer Hub helpdesk articles, then please feel free to get in touch with the support team directly.