In this article, we're going to look at setting up your integration with Teachable so that your customers are automatically enrolled into your courses when completing their purchases through your ThriveCart checkout.
If you've not already read our article on the minimum requirements from Teachable, then I suggest you read this here.
To get started you'll first need to head over to Settings > Integrations > Membership Platforms > Teachable in your ThriveCart dashboard.
Here you will be able to add a new integration (if it's your first time) or add further integrations or edit any existing integrations.
Below are the fields that need to be completed when adding/editing an integration.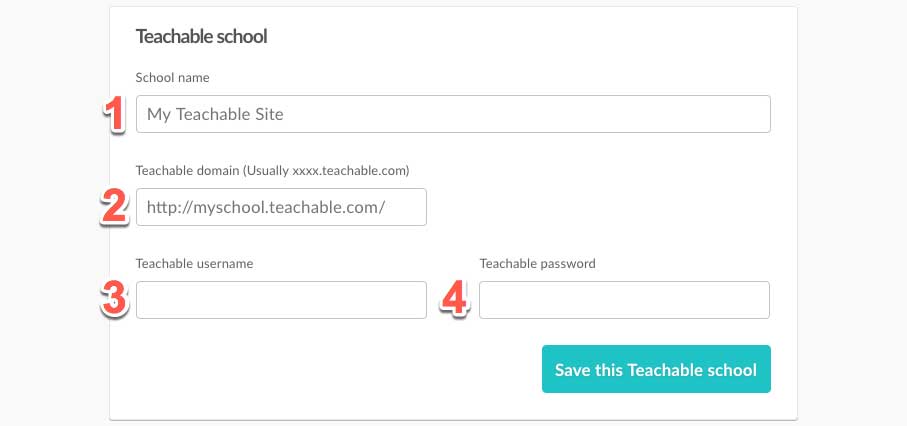 1. School name
Here you need to enter the name of your school. This is used internally in your product settings so you know which site you are selecting (if you have multiple Teachable integrations added).
2. Teachable domain
Here you will need to enter the domain for your Teachable site. Usually, it will be https://myschool.teachable.com but you might also be using your own domain name to access it.
If you're using Teachable's secure server, make sure you have https:// at the start of your domain. If you do not, then your courses will not show in your products fulfilment settings. If you are not using Teachables secure server then you can use the standard http:// at the start.
3. Teachable username
Here you will enter your Teachable username, typically your email address.
4. Teachable password
In this field, you will need to enter your Teachable password. You will need to ensure this is correct. If the password is wrong the integration will not work. If you change your password in Teachable in the future, you will also need to update it here.
Trouble with your Teachable integration?
If you have any issues with your Teachable integration then please review this article on their requirements. If you're having issues with courses not showing then it's typically due to the following:
You're on a free or basic teachable plan (as per Teachable's requirements you need to be on a Pro plan or higher)
Changing your Teachable password since originally integrating with ThriveCart (and your integration needs updating).
Not using https:// as part of your Teachable URL (if you're school is on a secure server).
Having no courses in your Teachable account (if you don't have any courses, even a test/demo one then you may have issues with the integration saving or showing courses).
If your Teachable course doesn't have a payment option setup in Teachable, it won't show within your ThriveCart fulfilment area.
If you still need assistance then please contact the fast and friendly support team here and we'd be more than happy to take a closer look at your integration.