ThriveCart offers you the ability to issue full or partial refunds on your transactions.
You do not have to worry about losing your entire sale if a partial refund could help save your customer and a portion of the sale.
Refunding a transaction
The first thing you need to do is head to your transactions area and locate the transaction you want to refund.


Once you've located the transaction you want to refund you need to click on the refund button.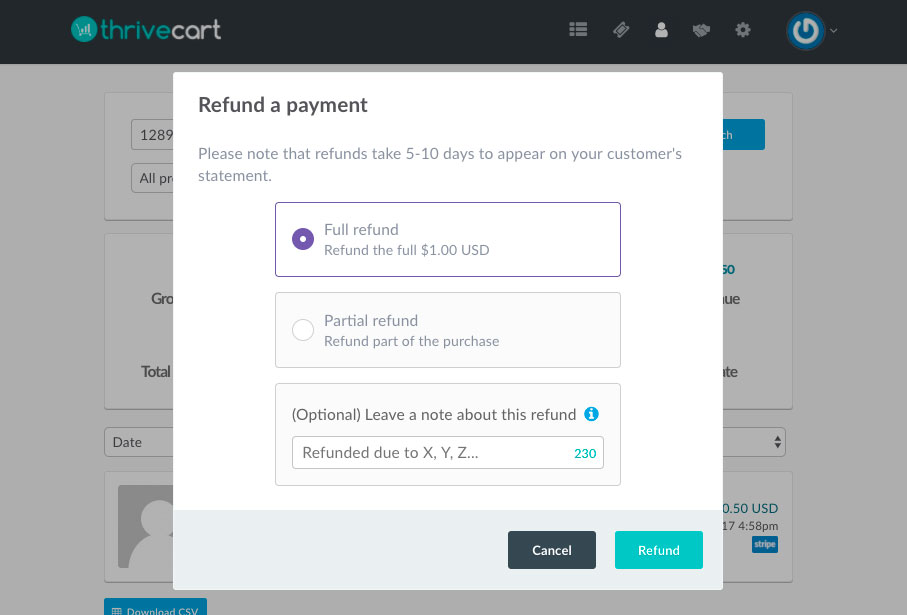 You'll be presented with a modal window with the choice of refund you want to process. You can choose from a full refund or a partial refund.
When issuing a partial refund you can refund multiple times up to the total transaction amount. You cannot refund more than the total transaction amount.
You'll also have the option to leave an internal note about the refund. So if you're reviewing your transactions in the future you can read your notes to see why that refund was issued (hover mouse over the refund text).

You will also see the refund show in the transactions once processed.
Refunding payments for subscriptions
Note, that when refunding a subscription payment the subscription itself is not affected (even if it's the initial payment). Refunding a transaction does not affect the customer's subscription. You can view the article here on pausing subscriptions, and here on cancelling subscriptions. If you have any questions you can also contact the support team directly here.
Refunding from your payment processor directly
ThriveCart gives you the tools and flexibility to handle all your refunding from directly within the system.
If you circumvent the system and act directly within your payment processor, we cannot guarantee that every relevant action will trigger and report back to your ThriveCart account.
So that your reporting remains accurate and your behaviour rules trigger appropriately, we strongly advise using the tools built directly within ThriveCart to handle your refund.
"There was a problem issuing this refund; please wait and try again in a few minutes."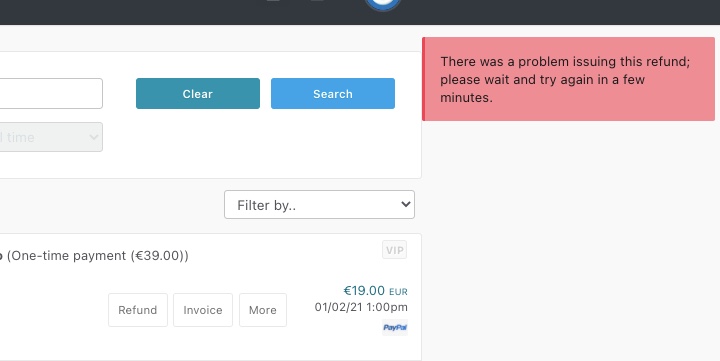 This error can occur when trying to refund a PayPal payment if you don't have sufficient funds in your PayPal account to complete the refund. In this scenario, you would need to either add funds to your PayPal account OR process the refund from within PayPal so they can pull from your backup funding source.
If you have any questions please contact the friendly support team with your question.