You've created your product and now you want the power of affiliates to drive traffic and help sell your product.  In return, you want to reward those affiliates with commissions for all the new customers they bring you.
ThriveCart has a powerful affiliate system built directly into the platform, making this a breeze for you. It only takes a few clicks and in this article, we're going to go through everything and what the options do.
To get started, from your product settings you're going to want to click on the Affiliates tab, and then check the box for Do you want affiliates to promote this product.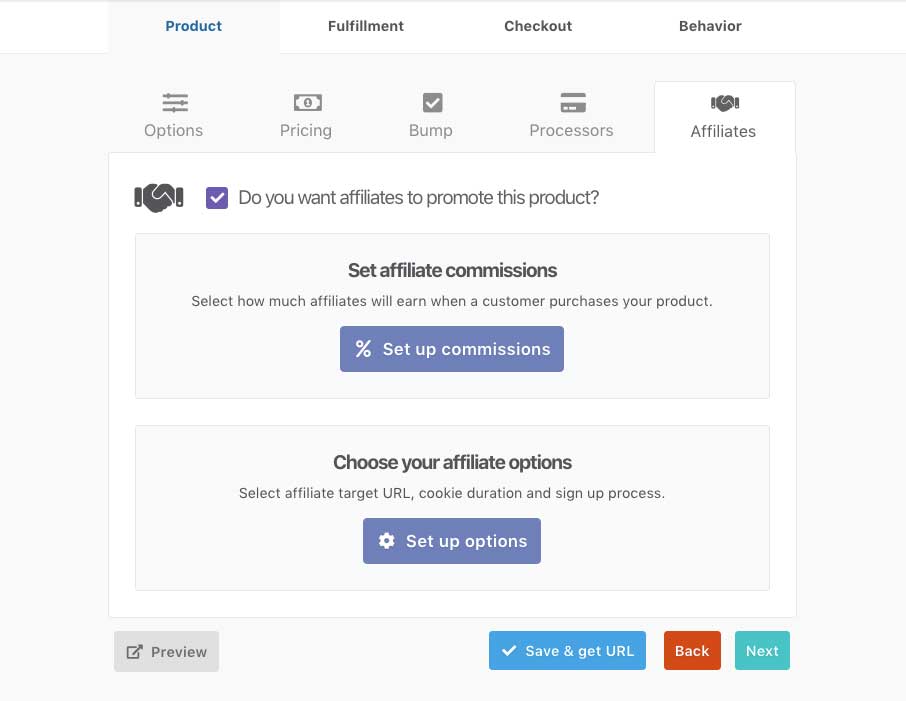 If you have enabled PayPal as a payment processor on your product, you will be prompted to go through and enable PayPal for affiliate payments if this is your first time. Please follow the on-screen video instructions.
There are two sections for you to complete here. The first is setting what commissions your affiliates can earn for promoting your product and when/how they should get paid.
The second section is for setting up details about the signup process and the link itself.
Set up affiliate commissions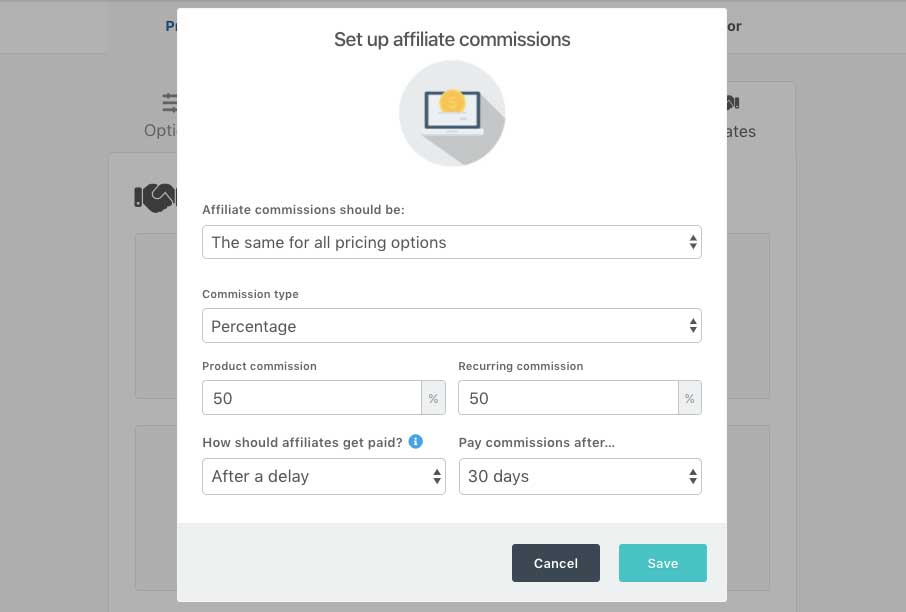 The first thing you're going to want to do is set how much you want your affiliates to get paid.
If your product has multiple pricing options, you can choose to set these options uniquely to each payment option or globally to all options. If you only have 1 payment option on your cart, this drop-down will not show, so don't worry if you don't see it.
You can choose if your affiliates are paid a fixed commission or a percentage based commission. If you are choosing a percentage based commission, it will be based on the price the customer actually pays. So if your product is $100 with 50% commission and the customer uses a coupon which gives them $20 off, the affiliate will earn $40 in commission (50% of the $80 the customer paid).
If your product has a subscription-based payment method then you can set different commission rates for the initial payment and for the recurring payments, giving you complete control over how much your affiliates earn.
Finally, you can set how your affiliates should be paid, you can select from instant, after a delay, or X now and Y later. All these options will let you automatically pay your affiliates through PayPal (providing you have both connected a PayPal account).
You also have the option of Manual payments. Manual payments will let you pay your affiliates through the platform manually at your own leisure. You can still pay affiliate through PayPal or mark them as manually paid outside of the system (if you have your own external payment system set up).
Finally, you can set when the commissions are due to be paid. For automatic commissions, these will be paid AFTER this period of time has elapsed. For manual commissions, they will become due after that time period too.
Once saved, you'll have a summary of your commissions which you can edit at any time by clicking the Edit commission settings button.
Choose your affiliate options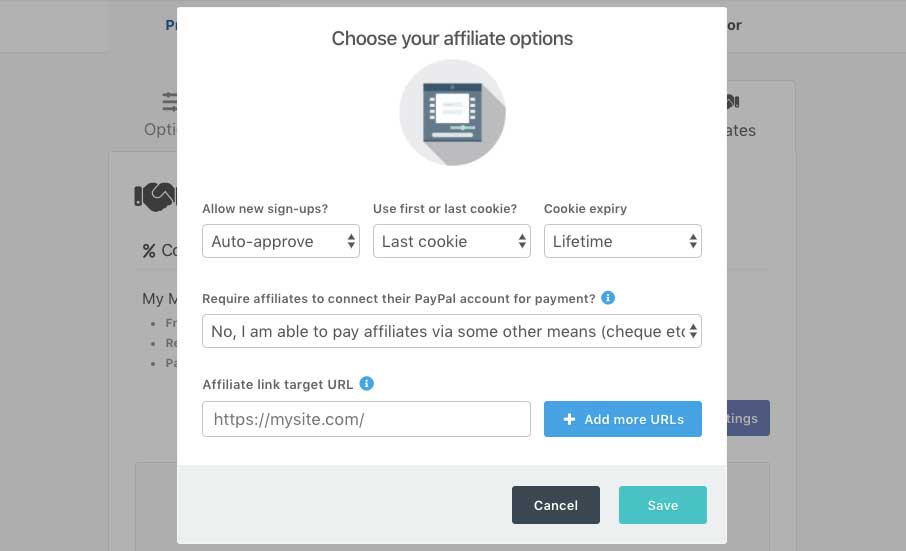 Now we're going to set up the options for our product and it's affiliate promotion.
Firstly you can choose how and if affiliates can sign up to promote your product. You can set automatic approval, manual approval, or disable new sign up.
You can select how the affiliate link tracks leads. Do you want affiliates to use last cookie or first cookie? This essentially decides which affiliate should be credited for the sale if they send the sale traffic/leads.
First cookie means that the affiliate that sends the lead first will get tracked and associated with the sale. Last cookie means the affiliate link that's used last (typically the one who 'closes' the sale) will earn the commission.
Depending on your goals and niche will depend on which you want to use. Last cookie is the most popular, but unlike other platforms, ThriveCart gives you the choice of how you want to set this up.
Cookie expiry lets you set how long the tracking cookie lasts for this affiliate link. If you set it to 7-days and the lead comes back to your site and purchases on day 8, unless he clicked the affiliate link again, the affiliate won't earn a commission.
You can also require affiliates to connect their PayPal account in order to get their affiliate link. This can be helpful if you don't want to worry about manually paying affiliates and want to use the automatic payments feature. By requiring your affiliates to connect their PayPal account, they won't be able to promote until they have done so.
If you set this to no, then the affiliate can optionally connect their PayPal account. If they do, then the system can and will still attempt to automatically pay them. For affiliates that don't connect PayPal, you will be required to pay them outside of the system using your own payment methods. Remember you can mark these commissions as paid in the system so everything is reflected correctly.
Lastly, you want to set the URL where your affiliate link sends traffic. This will typically be your sales/landing page for your product. This is the URL that leads are redirected to when visiting the affiliate link. If you leave this blank, the system will redirect directly to the checkout page by default.
You can create additional URLs for this product such as different landing pages you want affiliates to be able to send traffic to. These links will show in the affiliates dashboard. See our dedicated article on creating affiliate links that goes into this further.

Once saved, you'll have a summary of your affiliate options which you can edit at any time by clicking the Edit affiliate options button.
Getting your affiliate sign up URL
After saving your product you'll be taken to your cart's URL/embed code page.
At the top of this will now be a tab called Affiliate URLs. Clicking this will take you to the section where you can get the link to the affiliate sign up page and an example affiliate link.
You can even choose to embed a modal window into your site to have your affiliate sign up and register for your affiliate program.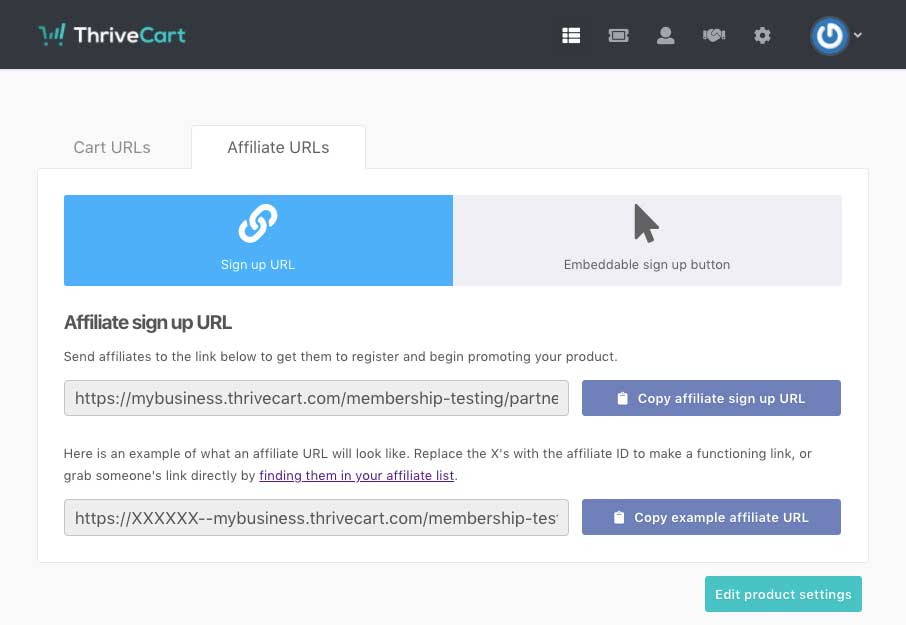 Enabling upsells for affiliate commission
The above has looked at how to enable your main product for affiliate commissions, and for your upsells and downsells, this can be enabled directly in those product settings.

Affiliates will only earn commissions on upsells if they are attached to a product which they are approved for. You do not need to approve affiliates for upsells & downsells individually.
If you have any questions about setting up your products for affiliate commissions please don't hesitate to get in touch with the team directly.