With ThriveCart: Learn, it's super simple to give customers access to a limited amount of content, and then unlocking further content after their trial period is over, or after further payments have been made.
For example, you could offer a 7-day trial (free or paid) that gives access to a couple of modules and a few lessons, and then after they complete their final end-of trial payment, they get access to the rest of the course content.
The payment set up
There's a few ways to set up free and paid trials within your product settings, see here for more details and see the image below for an example of a $7, 7-day trial which then charges $97 one-time after the 7-days have ended, automatically.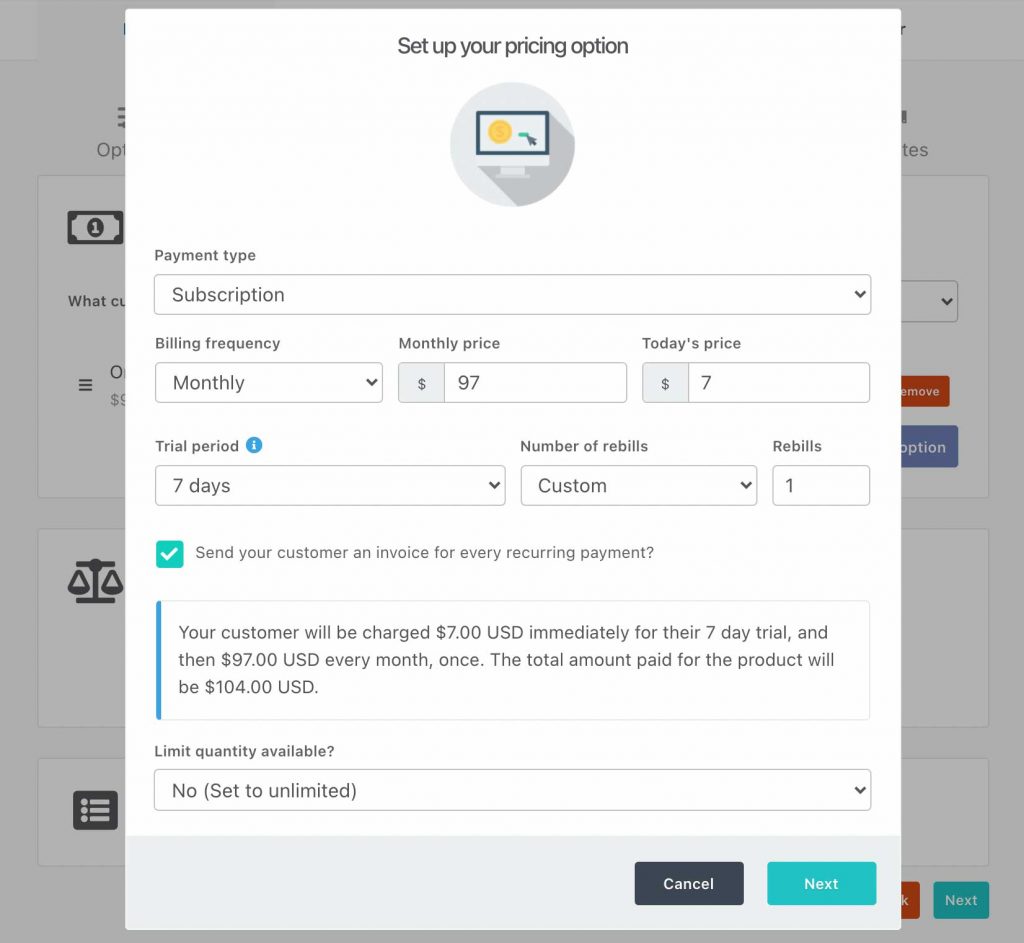 The course set up
With our product set up, we now need to set up our course and drip settings as needed.
At the top right of your course content list is a toggle between 'instant' and 'dripped'.

Selecting Dripped will give you the ability to select the option 'After a trial or rebill'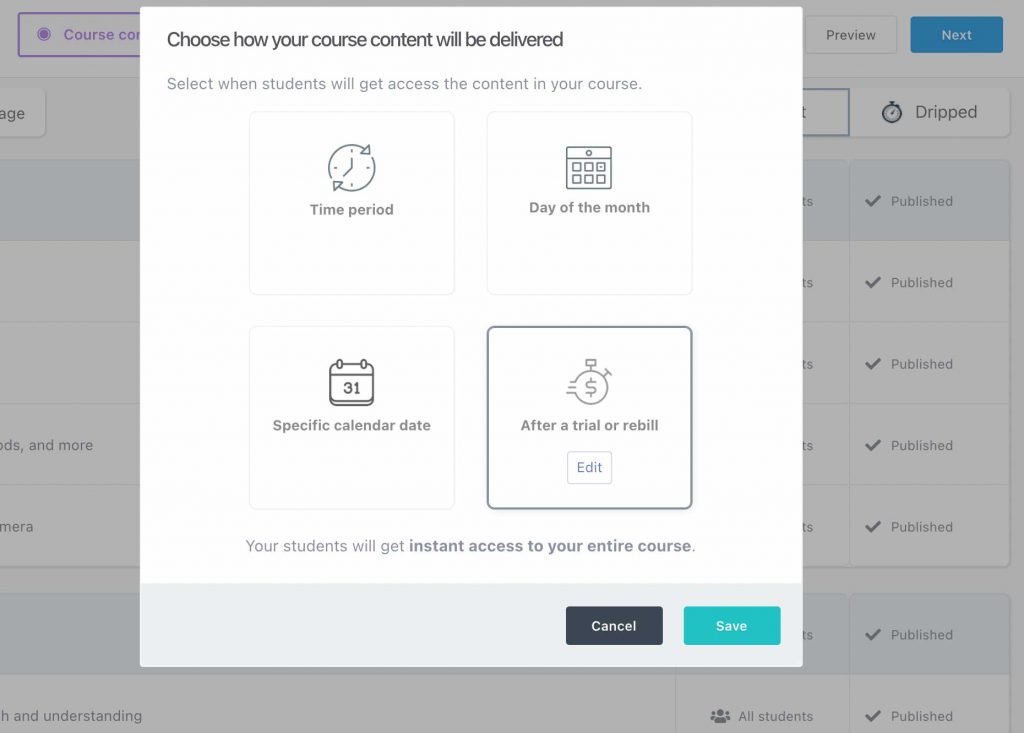 You can then select the option 'After a trial period ends'

What this will then do is set your first module and all lessons within that module as being 'Published' and all other modules and lessons to drip out after the trial period ends.
This is determined by when the first recurring payment is processed (in our example it's that payment after 7-days).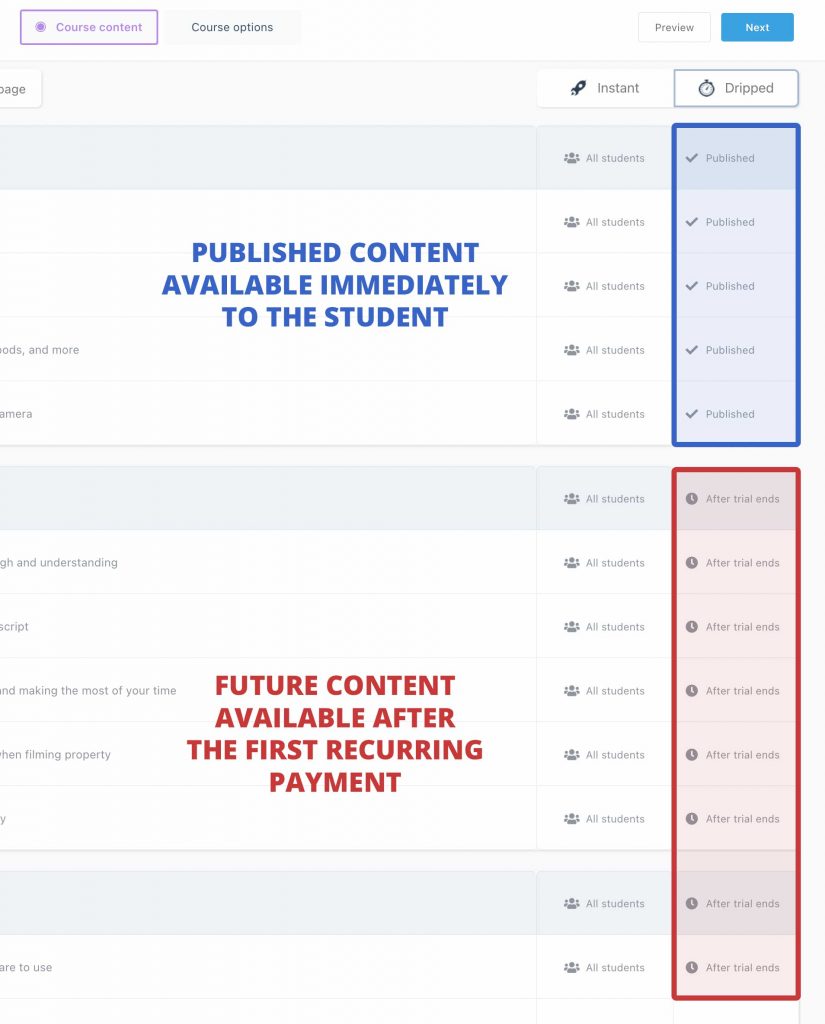 Now, for your course setup, you may not want to simply give the first module and lessons away as part of the trial, you might want to mix things up so that the student has access to a mix of lessons in modules.
To do this, you can click on the timing option for the lesson in the right-hand column and change the access timing option.
Giving you the ability to create something like the following.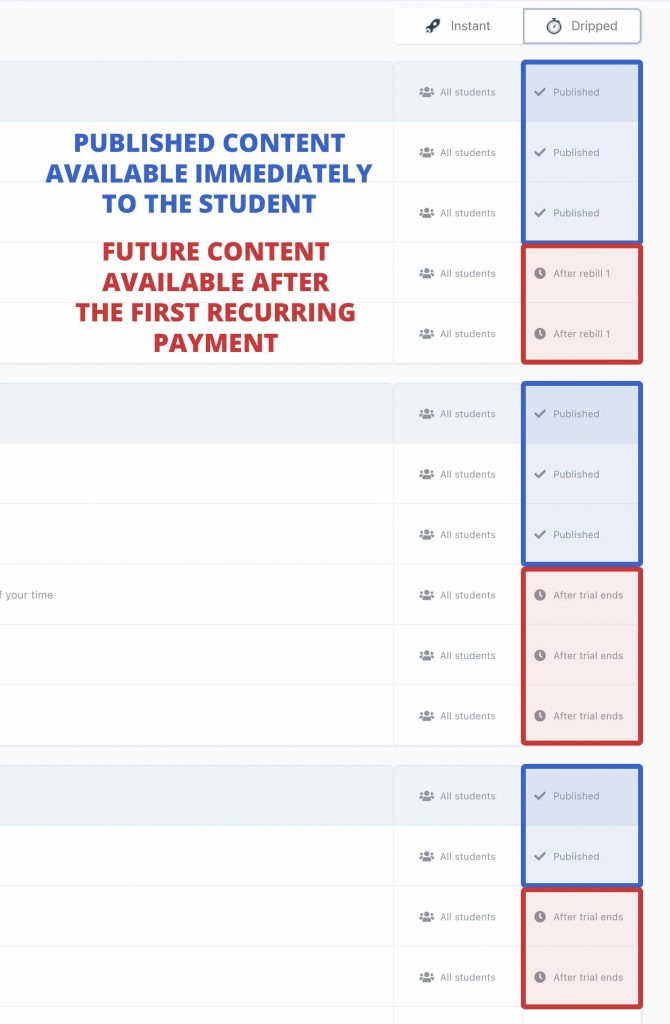 In this example, we have a number of lessons across several modules that are available instantly (published) and a number of lessons that are available after the trial ends (for the first module it's noted as "After rebill 1" which is the same thing.
Wrapping up
So you can see with just a few clicks, you can give your customers a taste of the course and what's to come either for free or a discounted amount and automatically have payment processed at the end of the trial.
Access to the content is only unlocked if the future payment is successful as well, so no fear of non-paying customers getting access to your full course.