In this article, we're going to look at creating a contract with your partner(s). The actual process is very quick and easy and can be set-up in just a few clicks through the system. But if you're unsure about part of the process, you can refer to our article below.
There are two steps to getting an active contract set up in your account;
Creating the contract in your dashboard
Your partner accepting the contract
So, let's jump in…
Step 1 – Creating the contract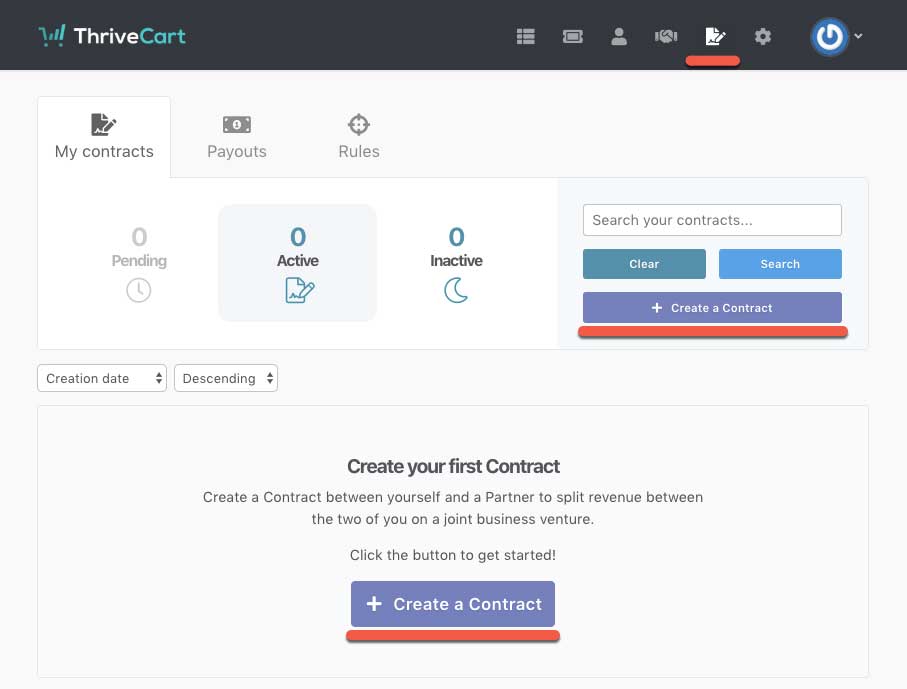 When visiting the contracts area in your account, you'll have the option to view any pending, active, and inactive(expired/cancelled) contracts.
You can click the Create a Contract button to get started.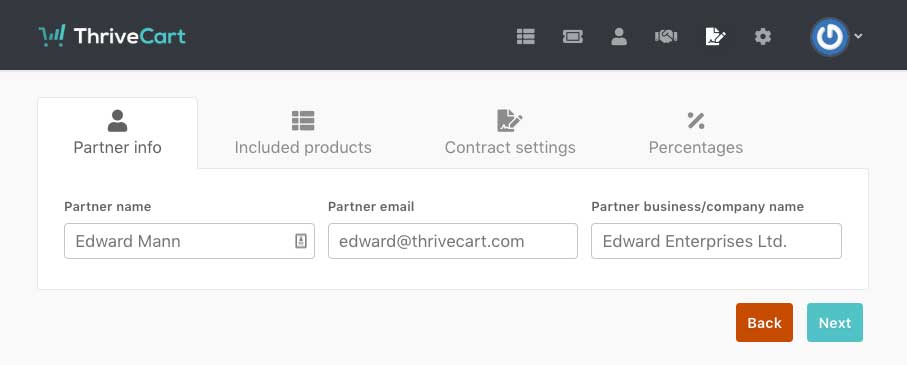 If you have already created a contract with a partner before in your account, then you will be able to quickly complete their details by searching for them.
If this is the first time, you will need to enter their name, email, and a business name. If they already have a ThriveCart login under the entered email (such as being a vendor themselves, being a sub-user, or being an affiliate), then this will display the partner dashboard as an option when logging into their account in the future.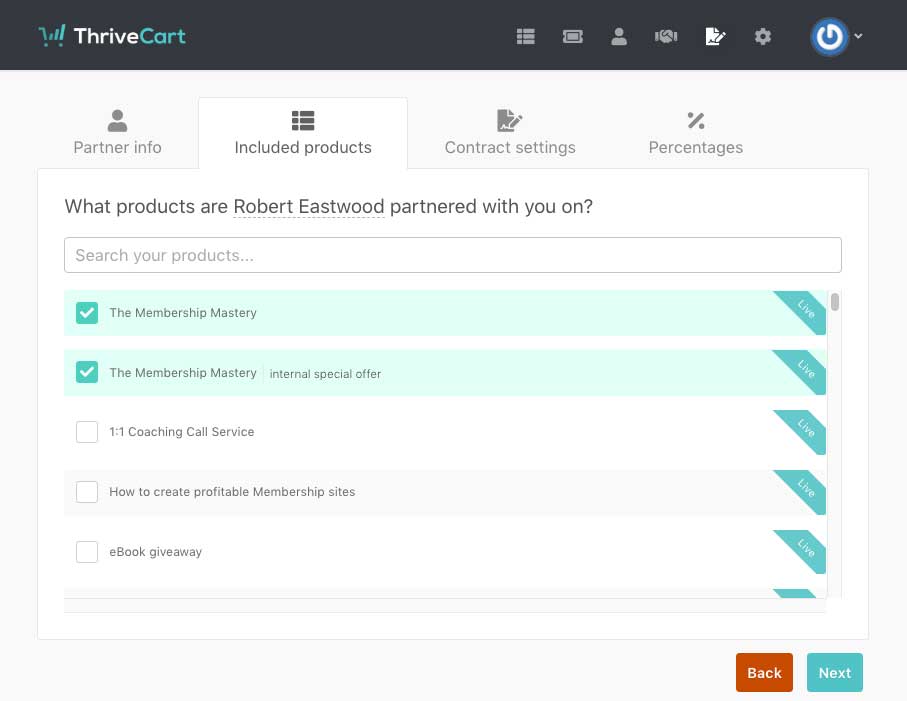 Next, we need to select which product(s) you want to include in part of this contract. You may have multiple products in your account that you want to share revenue with your partner for.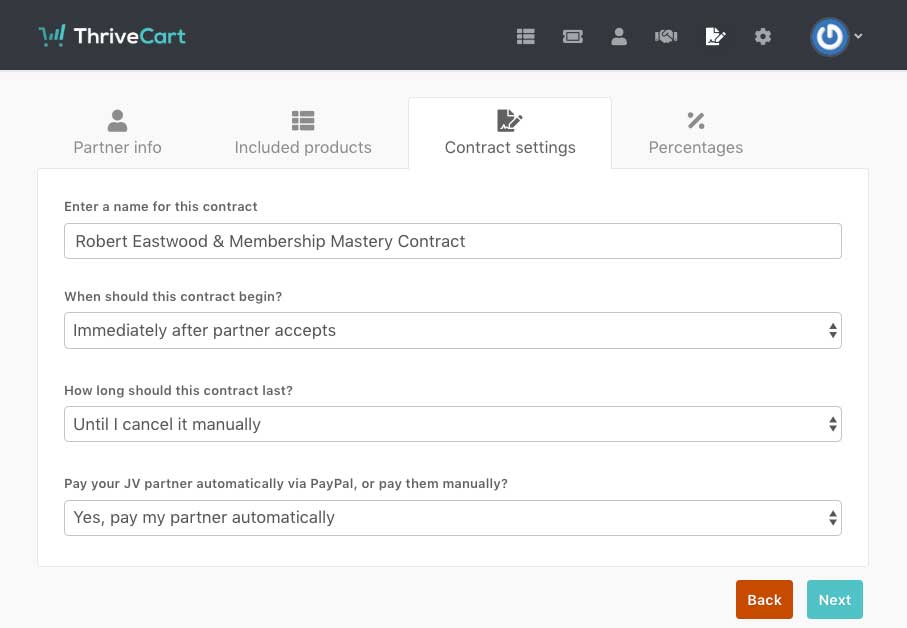 Now we can look at setting up specifics for the contract, such as giving it a name that both you and your partner will understand.
You can set when the contract will begin. Such as immediately when the partner agrees to it, OR from a certain date (start time will be 00:00 in the morning of the date you select, in your timezone).
Note: if the partner does not agree to the contract they will not earn their revenue share.
You can select how long the contract will last, either indefinitely; until you specifically cancel it, OR have it set to end on a specific date (this will end at midnight at the end of the day, of the date you select in your timezone).
Finally, you can set how your partner will be paid. Either automatically through their connected PayPal account (your Partner will need a verified Business PayPal account).
You can also choose the manual option. This allows the system to track and report earned revenue. You can then either manually pay them through their connect PayPal account OR through your own 3rd-party method (bank transfer, cheque, personal PayPal, etc).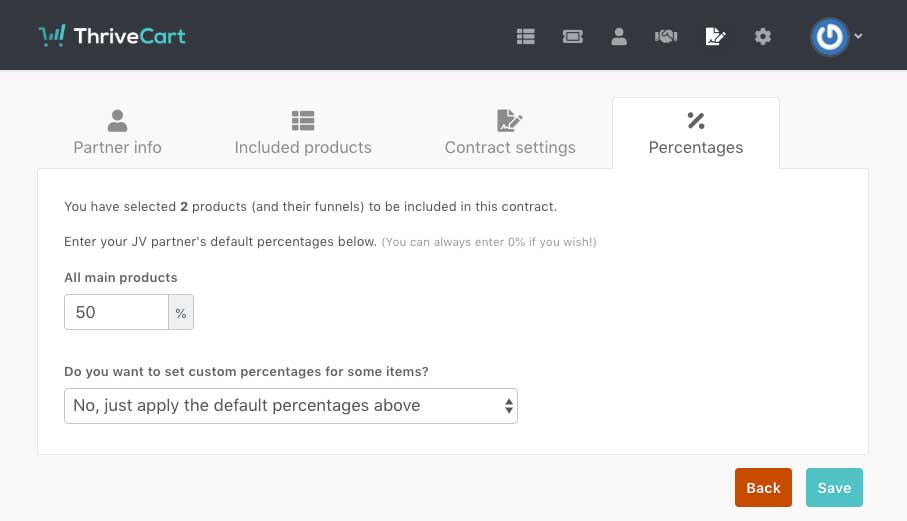 Finally, we're going to look at setting up how much your partner will be earning. In the example above, we have a simple product with no bumps or upsells. If you do have those, you will be able to set a default payout out for those.
But, if you want to get super specific, you can set custom percentages for each product and payment option in your funnel.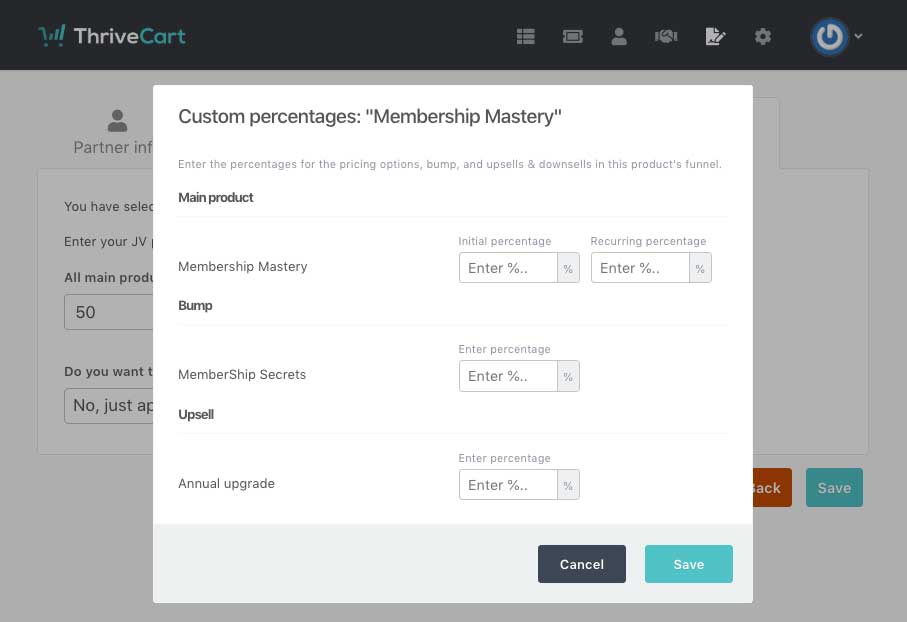 This allows you to really drill down and set different commissions for the different options in your funnel.
For example, you may partner with someone and after the launch, you'll be continuing with the site and the content, and your partner no longer has any input. You could have an agreement with your partner to only pay them 20% of recurring payments, maybe even 0%.
ThriveCart has you covered with whatever agreements you need to create for all aspects of the funnel.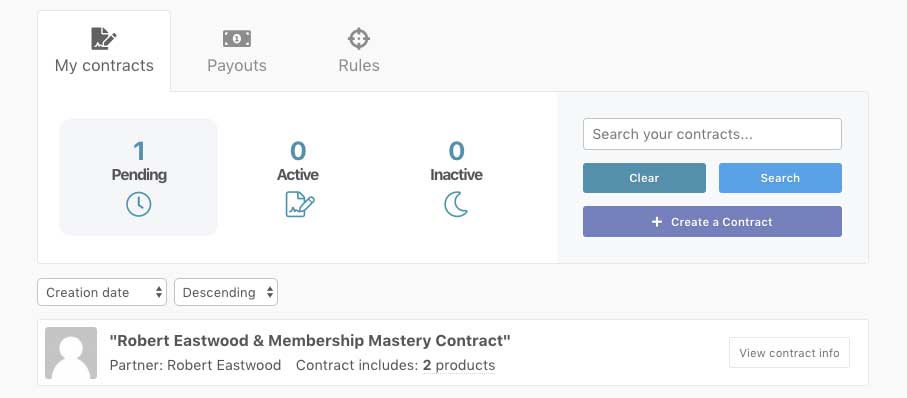 Once you have saved your contract you will be able to view it and then either cancel or make changes to the contract. You can only make changes to a pending contract. Once the partner has agreed to the contract, it cannot be edited – they have agreed to those terms.
Step 2 – Your partner agreeing to the contract
After saving the contract, your partner will get an email letting them know they have a contract pending approval and for what products.
In that email will be a link for them to access their account. Your partner will have a new ThriveCart login created and dashboard available under that email address. If the partner already has a ThriveCart login, either they're an existing affiliate or a vendor themselves, they'll have a new dashboard area they can access where they can view their partnership contracts.
Your partner does not need to own ThriveCart themselves.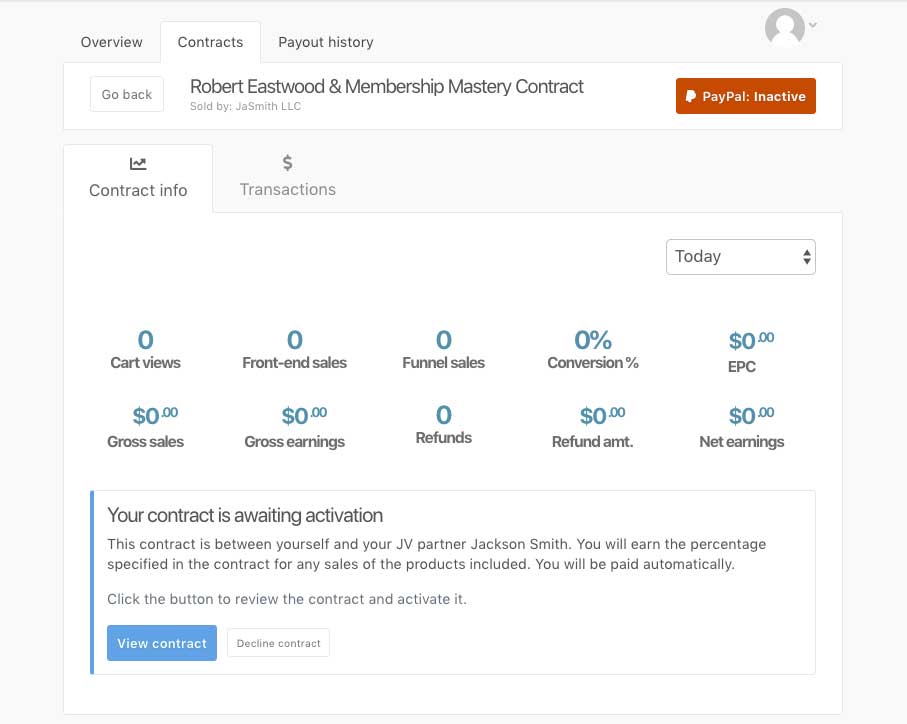 After your partner logs into their account, they can view their contracts and the stats for each.
They can then view the contract and accept it if they are happy with the terms, or decline it. They will not earn a revenue share unless they accept the contract. 
If you're paying your partner their revenue through PayPal, then your partner will need to connect their PayPal account too. They can click the PayPal button at the top right when viewing a contract. If they have an affiliate account already on the platform, then this will use the same account. Partners will need a verified Business PayPal account.
Please note that due to restrictions set by PayPal accounts based in India, Israel, or Japan are not compatible with partner payments through the system. You will need to manually pay their revenue outside of ThriveCart.