Note: this is an option for our legacy templates. The new cart framework will use the drag and drop upsell page builder.
In the video below, we're going to look at using ThriveCarts upsell funnel and using your own custom upsell pages on your own site.
In this video, you'll see how you can use your own pages for your upsells and downsells.It takes just a minute to swap to your own custom pages.
If you've already created a sales funnel it takes just a minute to switch to your own custom pages.
Note: Since this video was created, where you customise/set the setting for your upsell pages on legacy checkouts has changed location. This is no longer set within the upsell product settings, but now within the specific Funnel settings:
1. Click the Edit funnel button for the product/funnel you're wanting to setup.

2. After setting the upsell, select the Edit upsell page button to the right.

3. Select the option to Use my own custom page and then you can launch the button editor as per the video details below.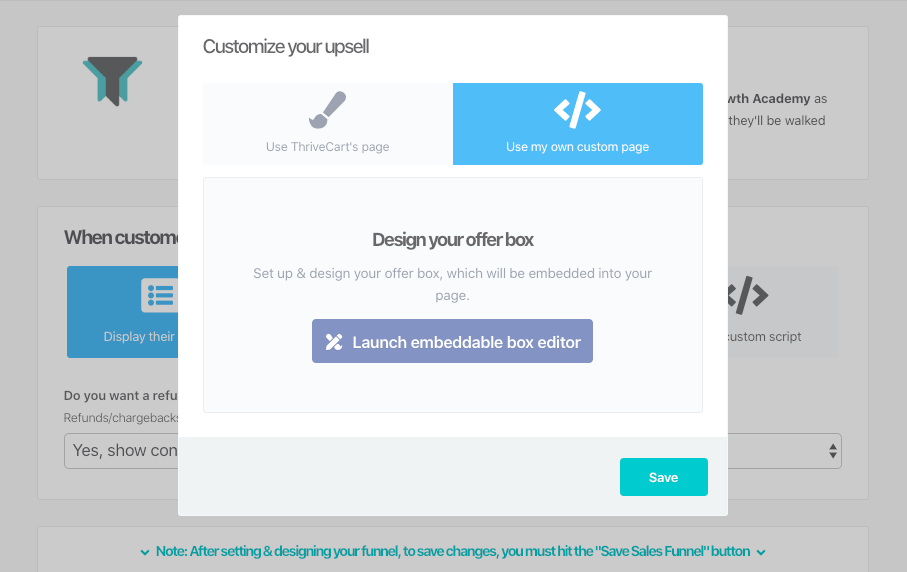 Important note:
In the above video, we look at creating a funnel where you have a URL to your custom upsell page on your website. We then look at the code that you embed into this page for this funnel to function correctly. The code provides the button/link that customers use to accept/decline the upsell.
Embed codes are unique to the funnel. You cannot use the same page on your website for multiple funnels in your account.
ThriveCart lets you use the same the same upsell product in your account across multiple funnels, but, if you're looking at using a custom upsell page on your website, then you will need a unique page for each funnel.
Example:
You have Main Products A and B. You have Upsell X which you want to include with each product creating a funnel AND you want to use your own custom upsell pages.
In ThriveCart you'd create a funnel for Product A and attached Upsell X to it. When saving the funnel you will enter the URL to the page on your website and you will be given the unique embed code to add to this page. Once completed you can save your funnel and this will now work.
Moving onto Product B you'd create your funnel and add Upsell X to it. Then when saving you'll need to enter the URL to the page on your website and you will be given the unique embed code for this page. This URL will not be the same as Product A above, as this is for Funnel B. So you'd need to enter a new URL and embed the code for the button on that page and use that URL.
If you try and save your funnel with the wrong URL or with a URL where the embed code is not saved, it will not let you save your custom upsell pages and will let you default to the ThriveCart hosted pages until you create a custom page for that upsell.
The Upsell product in ThriveCart can be used across multiple products, and if you're using the ThriveCart upsell page templates then you don't need to do manage anything on your website.