If you're wanting to learn the basics of how to create a funnel, we recommend you check out this helpdesk article first.
ThriveCart offers users a hugely powerful and native upsell page builder so you typically have no need for creating additional pages on your website. However, some user may prefer to use their own pages built with the page editors they're used to.
ThriveCart's upsell functionality includes the following, that most other platforms don't support when using your own pages.
The ability to have an upsell replace a previous product in the funnel (including the charge)
The ability to have quantity selector on the upsells (so someone can buy multiple copies of it)
The ability to offer multiple shipping options to your customer based on things like what country they're in
The ability to collecting shipping address and associate these with the order (directly on the upsell page)
The ability to load additional scripts with your upsell pages (based on the upsell product in your TC account)
The ability to have a coupon entered at checkout apply to upsells
Plus more…
Using a custom upsell page
Setting up your funnel is exactly the same as described over in our main helpdesk article here.
The key difference is when clicking the button to edit your upsell page, you'll want to choose the option Use my own custom page.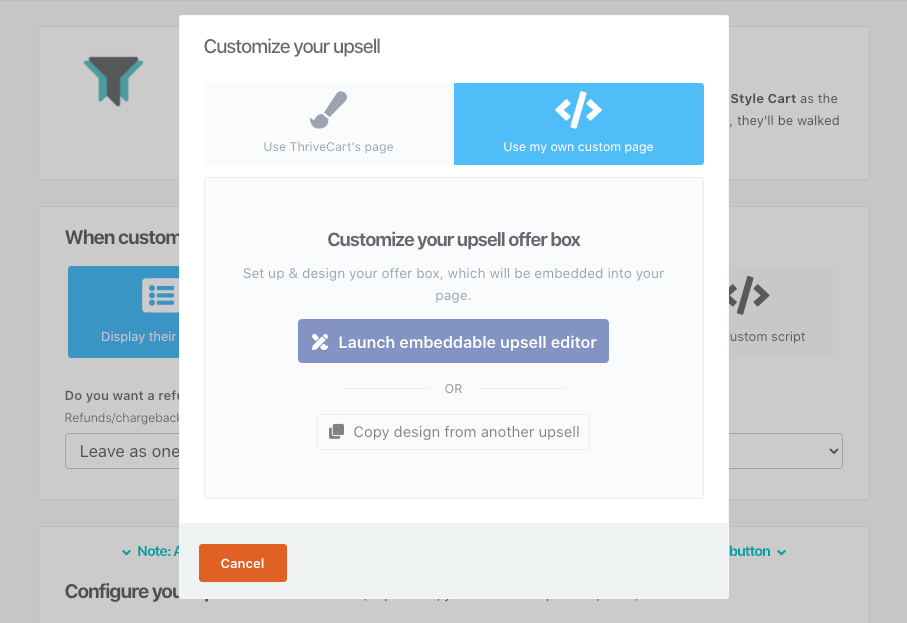 You will still need to launch the embeddable upsell editor and this is very similar to the standard upsell page editor when using ThriveCart's pages.
The difference is that this is what will be embedded into your own website, so it is built more around building the accept/decline button for your upsell page.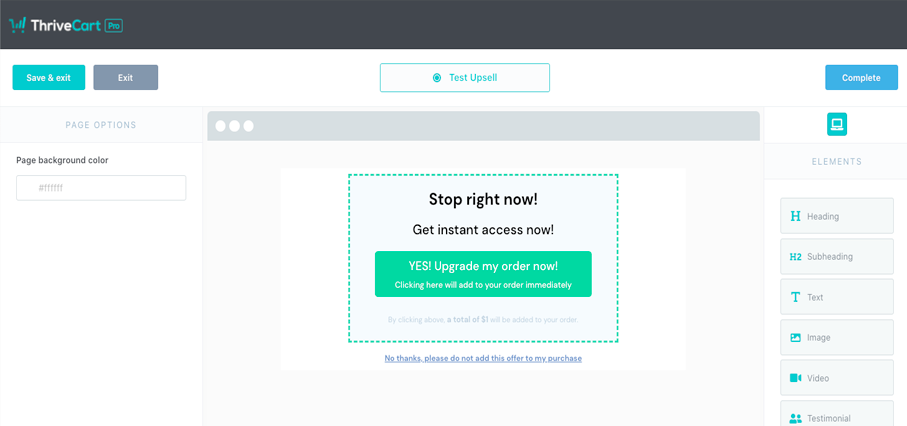 Once you've finished editing your buy/decline button area, you can click complete or Save & exit to go back to the funnel settings.
At the bottom of the page, you'll want to click the option to Save & publish your funnel.

When clicking this button, a new popup will show and it's on this step where you set the URL on your website where the related upsell page is located.
You will also get a copy of the code that you need to put on your website where you want the accept/decline options to show.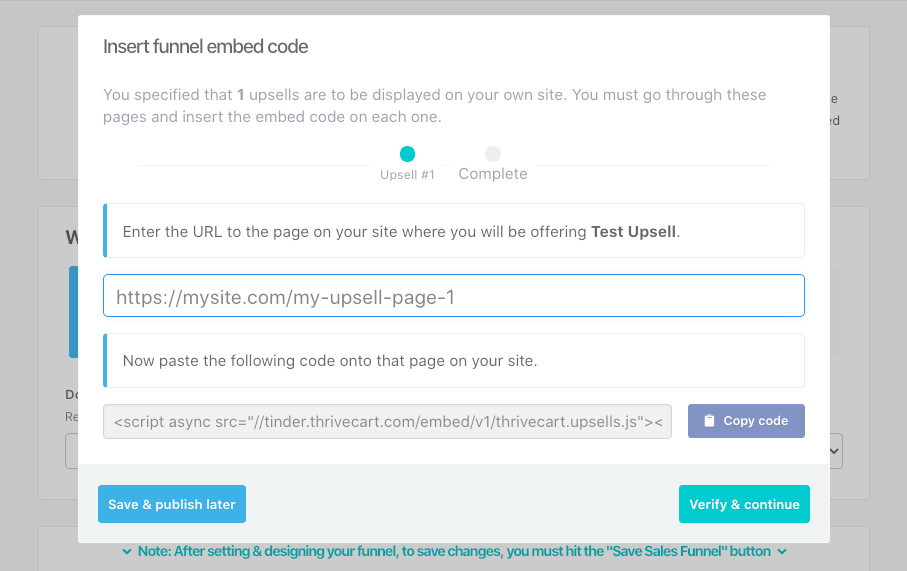 After you have added this code to your page and saved the page on your website, you will then come back to this browser tab and click Verify & continue to proceed.
Finally, you'll want to finalise everything by clicking the Continue button now showing at the bottom of the page. This will then take you back to the page where you can get your main checkout URL (or embed code).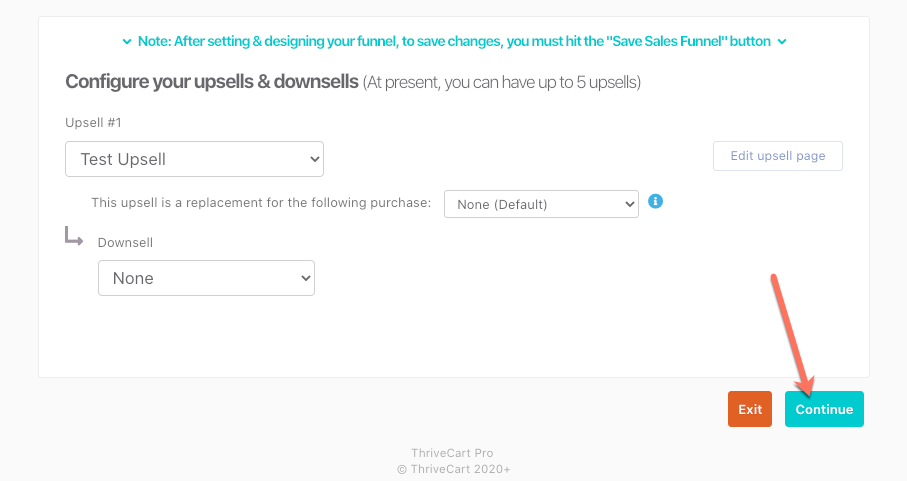 Now, when going through your funnel, you'll be redirected to your custom upsell page and it'll show as you've designed in the editor.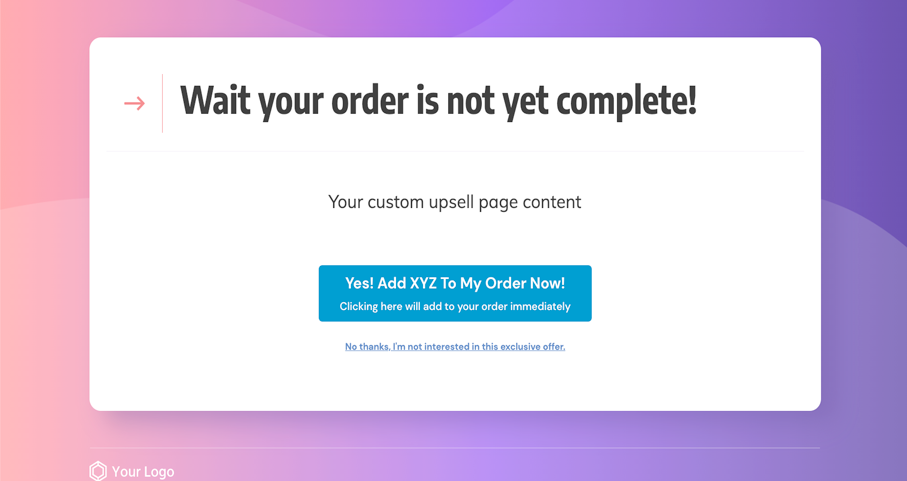 ThriveCart lets you use the same upsell in your account across multiple funnels, but, if you're looking at using a custom upsell page on your website, then you will need a unique page on your site for the upsell in each funnel.
Example:
You have Main Products A and B. You have Upsell X which you want to include with each product creating a funnel and you want to use your own custom upsell pages.
In ThriveCart, you'd create a funnel for Product A and attached Upsell X to it. When saving the funnel you will enter the URL to the page on your website and you will be given the unique embed code to add to this page. Once completed you can save your funnel and this will now work.
Moving onto Product B you'd create your funnel and add Upsell X to it. Then when saving you'll need to enter the URL to the page on your website and you will be given the unique embed code for this page. Your page URL will not be the same as for Product A above, as this is for Funnel B. So you'd need to have a different page on your website for this upsell and embed the code for the button on that page and use that URL.
If you try and save your funnel with the wrong URL or with a URL where the embed code is not saved, it will not let you save your custom upsell pages and will let you default to the ThriveCart hosted pages until you create a custom page for that upsell.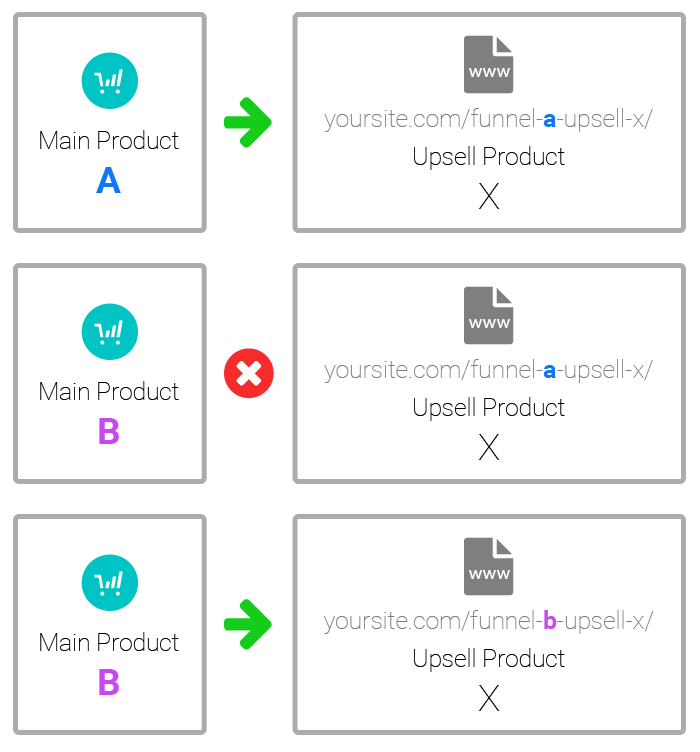 The Upsell product in ThriveCart can be used across multiple products, and if you're using the ThriveCart upsell page templates then you don't need to do manage anything on your website.