A frequently asked question we receive in support is
How can my affiliates earn commissions for any product purchased on my site but using only a single affiliate link?
The great news is that ThriveCart can easily let your affiliates send traffic to your site and then reward them for purchases made by the referred customer.
The most vital step in this process is ensuring your affiliate is registered and approved to earn commissions for the various products on your website.
We have a tutorial on setting this up, including how to have affiliates automatically applied to various other products in your account. You can view this tutorial here (note, it even has a working example of this frequently asked question included in the video).
Next steps
So, once your affiliate has registered for the products you are selling on your site, what's next?
You're going to want to make sure that your "Affiliate link target URL" is set to your main website URL or the page where the various offers are displayed.
You're going to want to do this for each of your products so that it doesn't matter which affiliate link the affiliate uses from their dashboard. The"Affiliate link target URL" is the page where you want your affiliates to send their traffic to directly.
It is found under your Product settings > Affiliates > Options tab.

When a user clicks an affiliate link, a cookie is dropped on their device about the affiliate. They are then automatically redirected to the URL you've set in this field.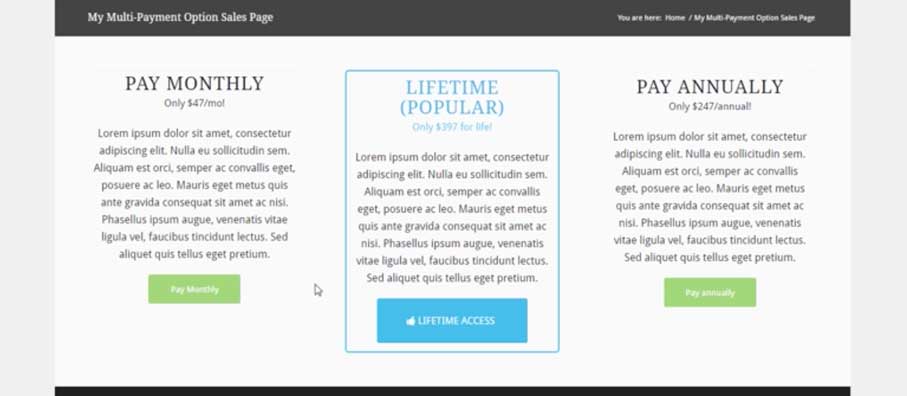 This user can then browse your website, and choose which products to buy. Then, when going to purchase a product, the referring affiliate will be recognised and rewarded for the sale. Even if the affiliate link previously clicked on was not for that specific product. As long as the affiliate is approved for affiliate commissions on that product purchased, they will receive a commission (the affiliate ID will be confirmed in the bottom of the cart).
It's worth watching the tutorial here as this shows an example where affiliates send leads to a page with 3 products, the affiliate then earns a commission on any of the products bought.
If you still have any questions or need help in setting things up, please don't hesitate to get in touch with the team directly here.