When you log into your ThriveCart account you're going to be presented with your dashboard.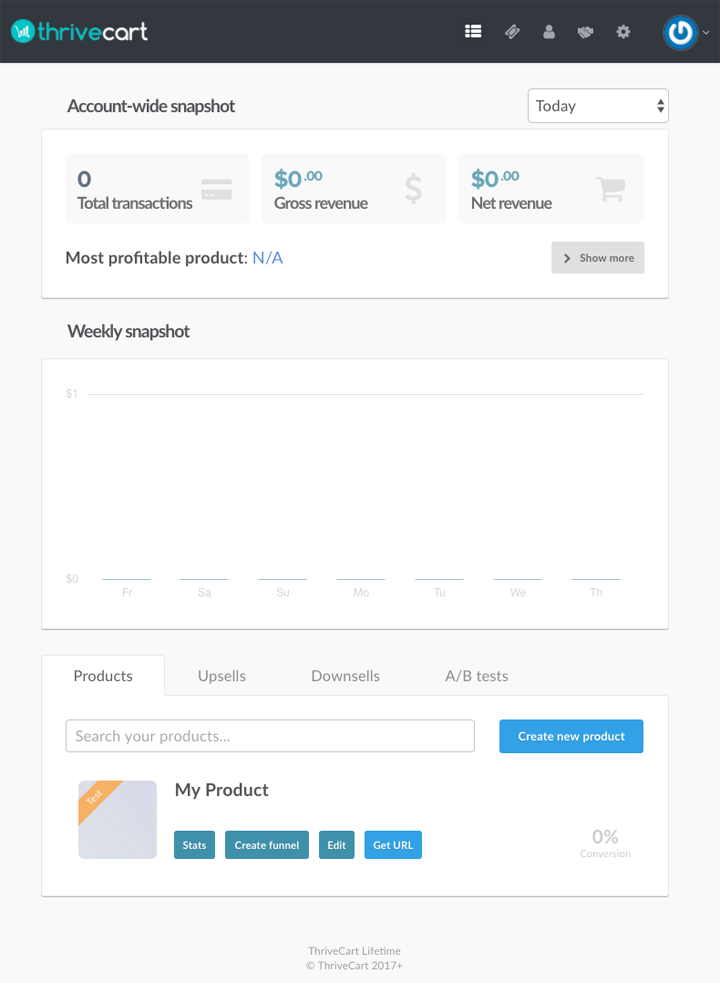 This area is broken up into several areas, so let's take a look at what each section is for.
1. Navigation menu

This is your main navigation menu for ThriveCart. You can quickly access your products, coupons, transactions, affiliates, settings, and your account settings (such as profile, support, signing out, and if you've got the client license the ability to create additional users). Simply hover over each icon and you'll be shown what they link to.
2. Account-wide snapshot

This section gives you a quick glance at how you're performing. By default, it will show you the total number of transactions, your gross revenue, and your net revenue. It also lets you know your most profitable product across your account.
You can choose the time frame you want to view your account wide stats from the drop-down at the top right.
You can also expand these stats to get a bigger breakdown of your performance.
3. Your weekly snapshot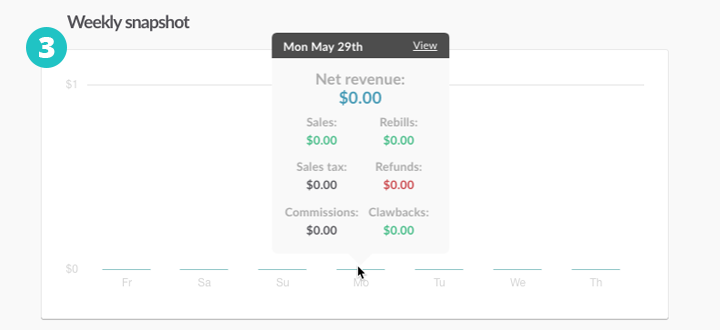 This helpful bar chart shows your account's performance over the previous 7 days. Hovering over a specific day will give you a breakdown of that day's performance and by clicking the 'view' link top right of the bubble you'll be taken to the transactions area showing the transactions for that day.
4. Your products

Lastly, on your dashboard, you have a breakdown of all your products, upsells, downsells, and A/B tests.
You can click the tabs in this sections to quickly switch between the different types of products in your account.
You can click the 'create new product' button to start the process of creating a product, or use the search field next to it to quickly locate a product in your account.
The list of products in your account contain the quick links to the different parts such as your stats, funnel settings, product settings, and the ability to get the URL or your embed code for your product.
If you have any questions or need any assistance please don't hesitate to get in touch with our fast and friendly support desk on support@thrivecart.com