To connect with MailChimp, simply follow these steps:
Sign in to ThriveCart
Click on Settings at the top
Choose Integrations
Choose Autoresponders
Choose MailChimp
Click on the Authorize button
Sign in to your MailChimp account and grant permissions
You'll be returned to ThriveCart and your MailChimp account will now show in the list.
After connecting your MailChimp account with ThriveCart, you will be able to make use of it within the behaviour rules in your account.
Click here to see how to add your customers to MailChimp after it's been connected.
What does this integration support?
Using ThriveCart's integration with MailChimp you can easily manage contacts for a wide number of triggers with
Add to List (audience)
Remove from List (audience)
Add tag(s)
Remove tag(s)
For data that is passed through to MailChimp, we currently pass through
Customer name
Customer email address
Additional notes
Using Thrivecart and MailChimp you do not need to worry about your customers needing to confirm subscriptions to your lists (as typical with HTML form submissions).
Due to the way we connect with MailChimp your customer's email addresses will be added to the relevant lists without any further action from your customer.
Users not being added to your lists?
If you're having issues where your users are not being added to your lists then we suggest checking your list settings within MailChimp. Notably your signup forms.
You need to ensure that none of your fields are set to "required" other than the default email field. If any of the fields are set to required then users will not be correctly added to your MailChimp list.
You can see in the image below where you check this.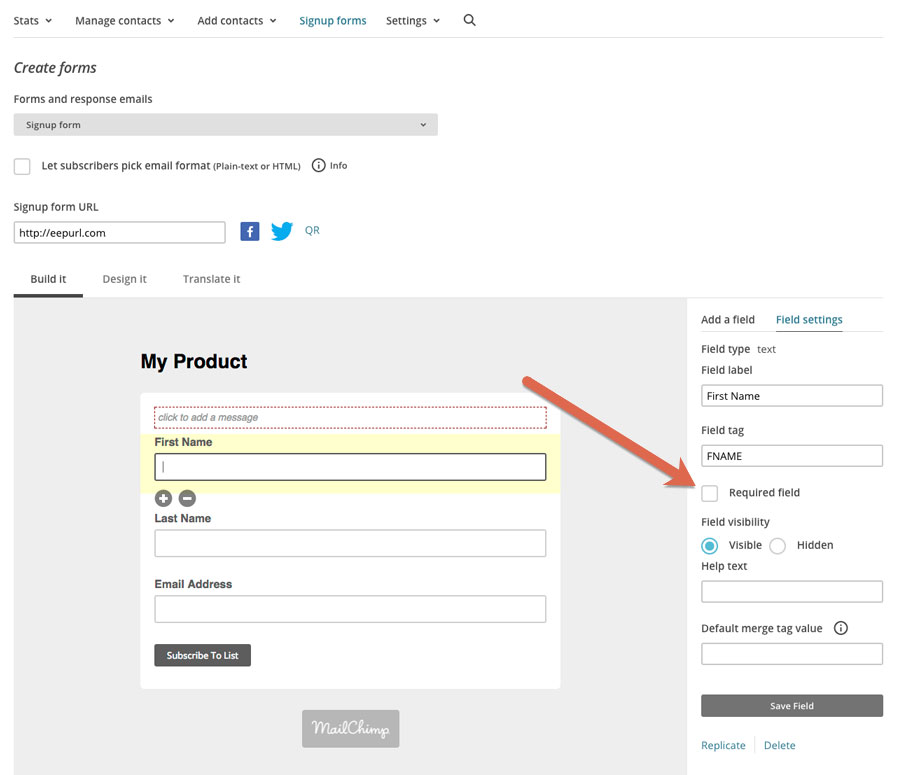 Unchecking this box and then saving your fields should resolve this issue. If you need any further assistance please don't hesitate to get in touch with the team and provide examples of orders where customers were not added to MailChimp.