When creating your Zap for ThriveCart the final step of creating your trigger is to test the ThriveCart trigger you've set.
You're presented with the blue 'connect and continue button which when clicked takes you to a screen that says 'looking for the product, this might take a sec'.

You then sit on this screen for several minutes before Zapier comes back with an error about not being able to find anything.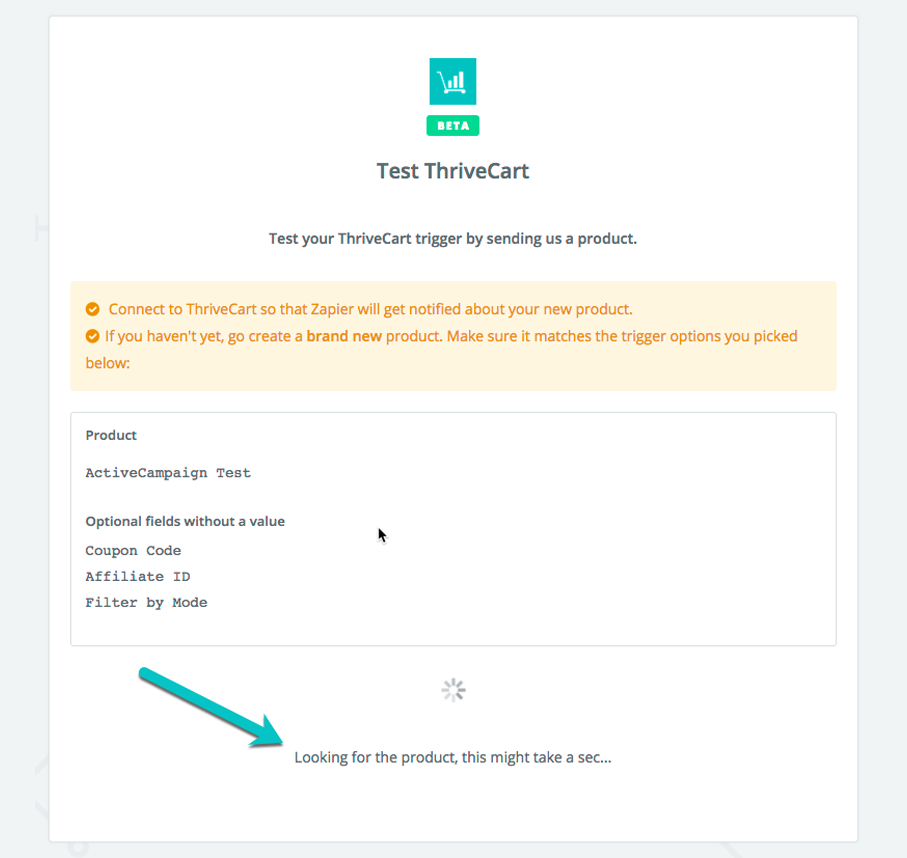 Don't Panic! This is completely normal and is simply because no trigger has actually been sent from ThriveCart.
For example, if you're creating a "Product Purchase" trigger in Zapier, when Zapier is setting on the testing step/getting samples, you'll have 3 minutes to trigger this event in ThriveCart – simply going through your checkout and 'purchasing' will trigger that event. Test mode when using Stripe will work.
We cover this in our training videos when looking at specific examples but let's take a look at triggering these notifications.
Most Common Triggers:
Any Purchase & Product Purchase

In these scenarios, where you are setting up a Zap to trigger on a product purchase when you click the 'connect and continue' button to test the zap, then you will need to actually put an order through the system.
This means you will need to have your checkout page open for the product you want to create your zap for and then go through the checkout so that the order is triggered and details are sent through to Zapier. This is required as your checkouts can be quite different from each other and the information passed through (you can do this in test mode providing you've not set the filter in the zap settings to live).
Any Recurring Payment & Refunds

Another common Zap that you might want to use is the recurring payment zap. But of course in this case when it comes to triggering a recurring payment this is only going to happen when a payment is processed, so here we would choose the other option when it comes to that blue connect and test button.

We actually want to click the Skip test and continue option that's available. Doing this will use a dummy set of data for setting up your action.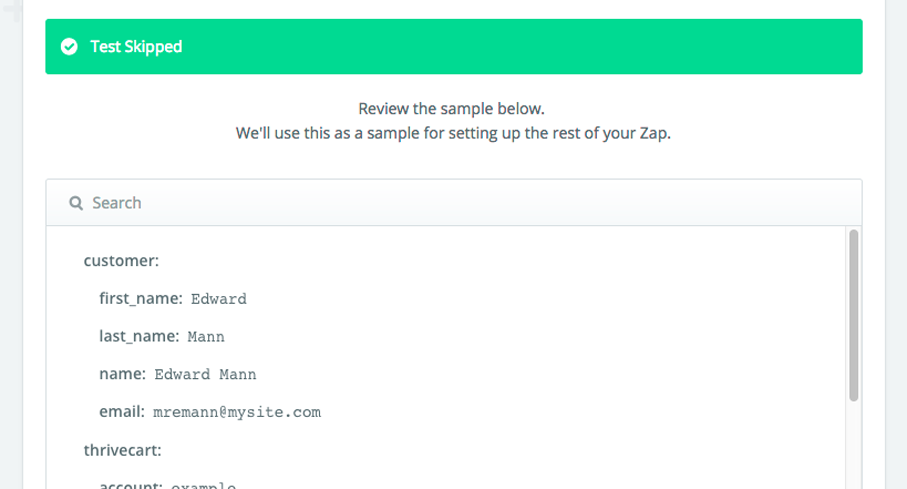 Things To Remember
So, if you're creating a Zap and get stuck on the 'looking for product' screen just make sure you're actually sending the trigger from ThriveCart to Zapier. If you're trying to create a zap in cases where a product or a coupon is 'created' then this will send the notification when you first save the item.
Note that if you are using PayPal/Authorize.net with the 'Product Purchase' trigger in test mode, this won't fire. In test mode, the payment step is skipped and nothing is actually sent as a purchase (with Stripe, test data is still sent so this will trigger perfectly). We advise either to put your cart in Live mode and do a small $1 transaction when setting up the Zap, or use the 'Any Purchase' Zapier trigger, as this will trigger when an order completes (so includes free products).
As always if you need any assistance don't hesitate to contact our fast and friendly support team. Be sure to include the details on what you're looking to achieve what you're having trouble with.