Important: Many other Zapier apps will pull in the latest sample or example that they can. If you're used to creating Zaps with Zapier, it's common to assume the same will occur here but this is not the case. Please follow and read our instructions below.
If you have not already done so, we highly recommend reading our helpdesk article on creating your first Zap. We do cover how to pull samples through to Zapier there, but this article has also been created as a direct reference for those who may miss this.
When creating a Zap for a ThriveCart trigger, the final step is to "Test this step".
Here you're presented with the options to skip the step (and use example dummy data) or Pull in Samples which will obtain more accurate information about your checkout, the order details, and requested fields.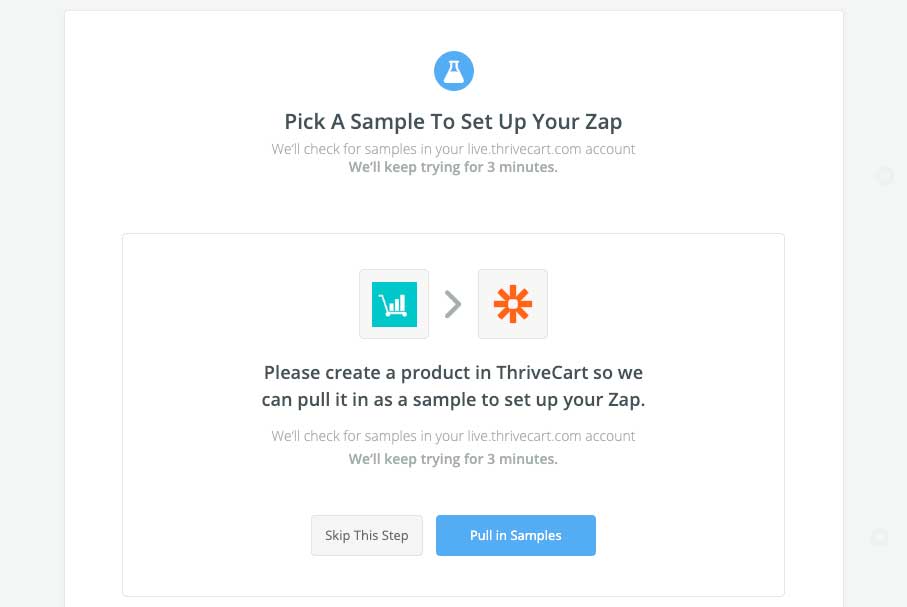 If you click the Pull in Samples button, you'll be sitting there waiting for 3-minutes before being shown an error.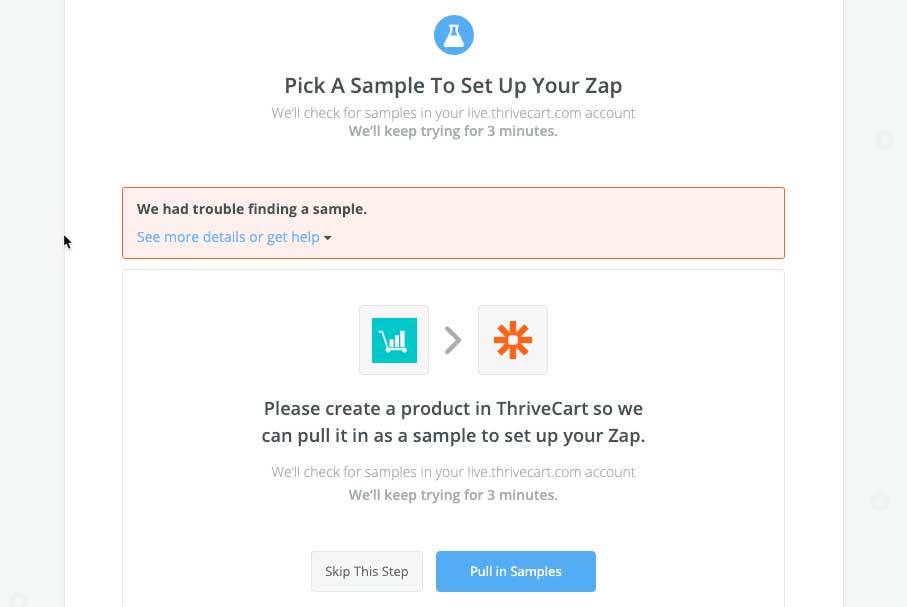 Don't Panic! This is completely normal and is simply because no trigger has actually been sent from ThriveCart for Zapier to receive.
During this 3-minute window where Zapier is pulling in samples, you need to trigger the event from within ThriveCart.
This is done very simply by following the below process:
Click the button to pull in Samples in Zapier
Go to  your checkout URL and complete a test transaction
Wait a few seconds and Zapier will be updated with those details
If this doesn't work, then it could be due to the following:
Your Zap has previous sample data or has demo data saved. In some cases, Zapier won't see the new data and it's best to create a new Zap from scratch.
If you're using the "Product Purchase" trigger and your product is in test mode, the test purchase will need to be completed through Stripe. PayPal and Authorize.net test mode transactions do not trigger this in test mode.
The "Product Purchase" trigger does not trigger for free or zero-rate products. You will want to use the "Any Purchase" trigger (this can still be set for specific products) if you plan on offering your product for free.

Things To Remember
If you're creating a Zap and get stuck on the 'pulling samples' step just make sure you're actually sending the trigger from ThriveCart to Zapier during that 3-minute window. If you're trying to create a zap in cases where a product or a coupon is 'created' then this will send the notification when you first save the item.
Note that if you are using PayPal/Authorize.net with the 'Product Purchase' trigger in test mode, this won't fire. In test mode, the payment step is skipped and nothing is actually sent as a purchase (with Stripe, test data is still sent so this will trigger perfectly). We advise either to put your cart in Live mode and do a small $1 transaction when setting up the Zap, or use the 'Any Purchase' Zapier trigger, as this will trigger when an order completes (so includes free products).
As always if you need any assistance don't hesitate to contact our fast and friendly support team. Be sure to include the details on what you're looking to achieve what you're having trouble with. A quick video recording walking us through what you're doing will also quickly help us identify any issues or confusion with the process.